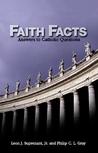 Faith Facts: Answers to Catholic Questions by Leon J. Suprenant Jr.
My rating: 3 of 5 stars
I enjoyed reading this book but could only give it three stars. CUF, Catholics United for the Faith, has a thing they call Faith Facts. People call or write to them and ask questions about the Catholic faith and they have a team of people who research the answers thoroughly and then answer them via these Faith Facts. There are presently two books covering several major topics; things like the Creed, Mary, Mortal Sin, the eucharist, etc.
I only gave the book three stars because I as a practicing catholic for 17 years understood their answers to the questions, but I felt that a person outside the church or even a new convert might have difficulty with them. They reference a lot of scripture, but they also reference a lot of church documents that someone outside of the church would most likely have never heard about. At times, they get into some Catholic theology that can be difficult to understand especially if you have not taken the time to do much outside reading on the subject, whatever the subject being discussed is.
Still, I would recommend the books to someone who maybe has done some reading on Catholic doctrine, and, perhaps, these books would take them a little deeper.