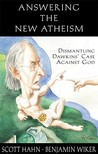 Answering the New Atheism: Dismantling Dawkins' Case Against God by Scott Hahn
My rating: 4 of 5 stars
This was a good book, even if at times confusing. I had less trouble understanding the final three chapters than I did the first five. Scott Hahn and Benjamin Wiker are both Catholic theologians and it shows. Of course, they were writing this book from the perspective of theologians who were trying to debunk Richard Dawkins' philosophy in his book "The God Delusion" without resorting to the Bible or Christian theology which Dawkins does not consider authoritative. That could not have been an easy task.
As it begins, several colleagues have come to Wiker because a book called "The God Delusion" by a man named Richard Dawkins has been causing a large number of seminarians to lose their faith. Benjamin Wiker decided to read the book to see what, if anything, could be done about it. He brought fellow theologian Scott Hahn on board and together they wrote this book "Answering the New Atheism: Dismantling Dawkins' Case Against God".
They do a fine job of presenting the Christian viewpoint and showing why Dawkins' philosophy based on evolution and Darwinism is dangerous and just does not hold water. I personally would have liked to have seen the first five chapters dumbed down a little for people like me who don't hold degrees in Theology, but then again it was not really written for me but for seminarians who would have at least some background in Theology.
I can happily recommend this book to anyone with an interest in debunking what is being called the "New Atheism".