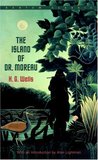 The Island of Dr. Moreau by H.G. Wells
My rating: 4 of 5 stars
I very much enjoyed this book which was a dramatization of H.G. Wells classic novel.
According to the blurb, this book was set in 1950. I will have to take the publisher's word for that as I don't recall hearing anything that would tip me off to that date.
The audio was excellent having been recorded in CD quality stereo. It was so life-like that when I heard flies buzzing around a dead carcus I forgot I was listening to an mp3 and found myself looking around the room for it and swatting it away from my ear.
Unfortunately there is a drawback to it. I had to download the publisher's Android app in order to listen to it. The app has absolutely no controls whatsoever. No play button, no pause, no fast forward or rewind. I had to listen to the book straight through from beginning to end before it stopped. It even kept playing when I tried to stop it by closing the app. If you have another way of listening to mp3 files then by all means use it. I am going to have to find an app for my Android before I get any more books from Gumroad.